INTRODUCTORY OFFER – 20% off your first year's subscription! Use discount code
INTRO20
. For more details, visit our
pricing
page.

Groundleader makes easy work of quoting, scheduling, logging visits, invoicing, and so much more. Sign up for free to try it out for yourself!
Easy invoicing
Easily produce invoices, statements, quotes etc. Can itemise tax (e.g. for U.K. VAT, if applicable). Effortlessly track time to charge by hourly-rate, or fixed-price.


Use online, on paper, or in the mobile app.
Works on any device with a browser. Visits can be logged onsite using Android and Apple iOS apps (even offline), and you can choose to capture visit "evidence" such as photos and signatures. It's fast, so feels more like a "local" application than an online one, even with a relatively slow connection. You can produce paper job-lists if you like, which can be an efficient way of recording visit data (rather than repeatedly reaching for your phone).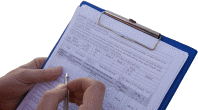 Lone working
Look after your lone-workers, with an automated alert phone call and email, when they fail to check in or start their shift on time. Emails include details such as the staff member's last known location.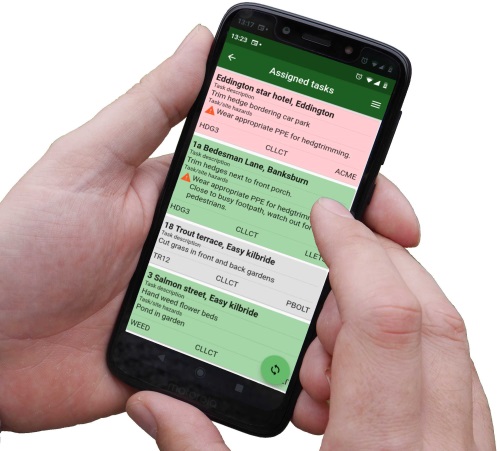 Safety and Quality
Site and task risks, safety control measures, specifications, and other important notes, are shown on your crews' job-lists. Helps you to look after your staff and customers. Can be useful if you're trying to comply with ISO 45001 or ISO 9001.
Sign up for free
You can try Groundleader for free, for as long as you like, on the lowest price tier. Click here to sign up.
We occasionally run introductory offers or discounts, so look out for those, but if you're not seeing a discount code available then drop us a line, and we'll set you up with a special deal.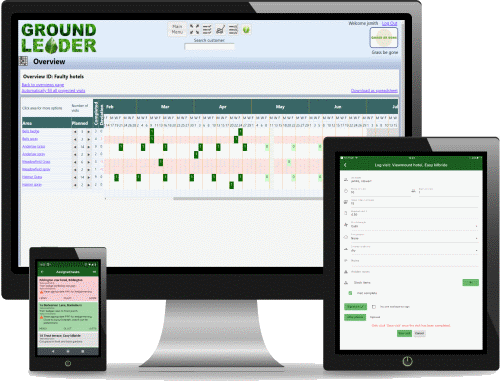 Give your customers a login
They can view and accept quotes, access "overview" schedules, view visit "evidence" if required, etc.
Profit analysis
Analyse your average time at each site, to work out how much you should be charging. Charge different rates for different types of work, apply discounts to individual customers / visits, etc.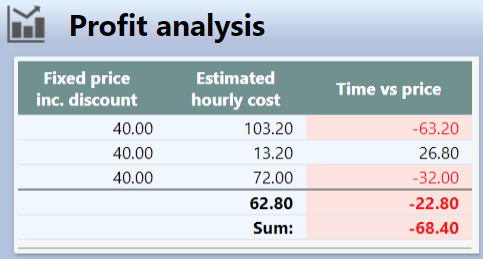 Powerful, versatile scheduling systems
Groundleader handles a broad variety of client needs, by giving you a choice of scheduling methods for different situations and tasks (e.g. "appointment", "auto-adjust", "days between"), which all work together as one flexible, robust solution. Whichever method(s) you use, the system will assign the correct priority to your tasks as the season progresses. "Overview" schedules can give you and your clients an at-a-glance graphical projection and summary of progress. The flexibility of the system helps you handle eventualities such as staff absenteeism, machinery breakdowns, or rainy-days.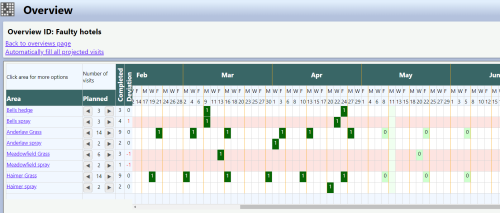 Interested? Have a look at our pricing, or you can go right ahead and sign up here.
Scheduling-and-billing software, designed by contractors, for contractors.
"We first started developing and using our own scheduling-and-billing system in 2008, to help manage our own grounds-maintenance business, because we simply couldn't find a system on sale that suited our needs.

We quickly realised there would be other businesses out there with a similar need, so developed it with a view to offering it to others. We understand this industry – we're not just some faceless software firm. We're really looking forward to lending you our support." – Peter Gear, Director.
Scaleable
Add as many users as you like, for no extra charge, so all your staff can access it anytime, anywhere. No limit to the number of customers / sites / tasks etc. If you have a large operation, with multiple ops bases, 'regions' help you manage different areas separately.
Export to Sage, Quickbooks or Xero
Groundleader can generate customer transaction files (e.g invoices, customer records) which you can export to Sage Accounting, Xero and Quickbooks, via spreadsheet. Note that this is only available to versions of their software which are capable of importing spreadsheet files. More comprehensive integration with some accounting packages should be available later in 2021.


Restrict access to sensitive data
Staff and subcontractors' access to certain parts of the system can be restricted, according to their 'role', e.g. field teams won't see the likes of sensitive pricing, unless you want them to.
Based in the UK
We've designed software which can handle the occasionally-inclement UK weather, and we understand the challenges of operating within the UK market.