Last updated 26/11/2020.
Back to resources menu.
What are non stock items/visits?
Non stock items/visits are designed to save you time when allocating 'one off' stock items or visits to a customer, They can only be allocated by a user in the administrator role.
A non stock item is a stock item that can be allocated to a customer without first being added to Groundleaders stock page. Non stock visit items are visits that can be logged without having to go through the process of adding a task and a site.
For your more common stock items it is always best to set them up properly in the manage stock page. Where visits for a task will be carried out more than once the task should be set up on the tasks page. Non stock items/visits will be included on customer invoices the same as normal items but they will not appear in any reports produced by Groundleader or on the profit analysis page.
How to allocate a non stock item/visit
Non stock items/visits can be allocated direct on the raise invoice page, one the cutomers page with a customer selected and on the 'Non stock item/visits' page found in the visits & stock section of the main menu.
Click the button to allocate a non stock/visit item then choose either a stock or visit item, you will also need to select the customer to allocate to if one is not already selected.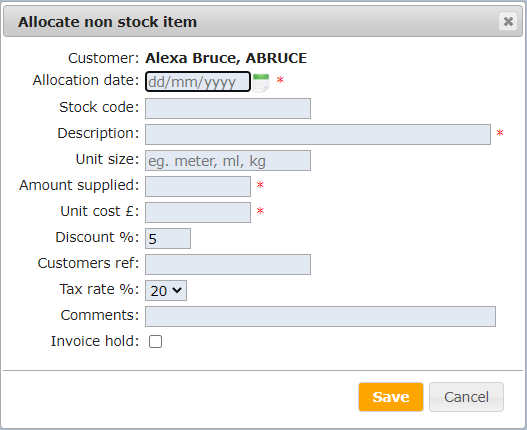 Allocating a non stock item.
The only required fields when allocating a non stock item are the date, the item description, amount supplied and unit cost. If you are tax registered you will also need to make sure the correct rate is selected. The other fields are optional but if filled in will appear on the invoice for the item.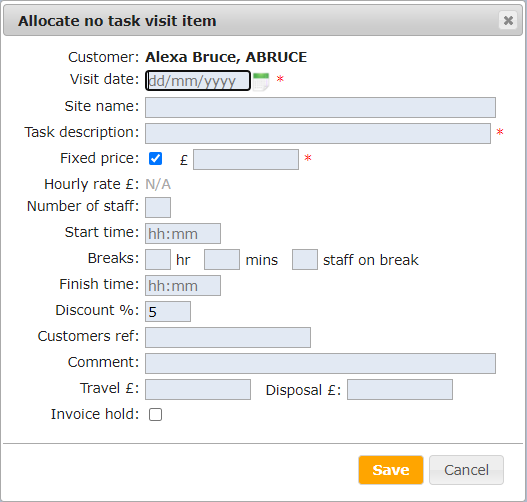 Allocating a non stock visit.
When logging a visit you need to choose if it is fixed cost or not, if so the fixed price is needed, if hourly the start and finish times are required as well as the number of staff and the hourly rate. The hourly rate will default to your current base rate.
Once non stock items/visits have been allocated to a customer they will appear on the customers next invoice along with the normally logged visits and stock. These items can be edited on the invoicing page by clicking the 'edit' button at the end of the items row.
Non stock item/visit page
The non stock item/visit page can be found in the visit & stock section of the main menu and is only available to administrator users. This page lets you search, view, edit and delete already allocated items as well as allocate new ones.