Last updated 12/11/2019.
Company contact information
When Groundleader produces invoices, quotes and statements for your customers it needs to show your company information in the relevant places. For example your address needs to be shown on remittance advices and on the return slip that accompanies a quote.
When you first set up your account this information will have been entered. To update or view the information select the 'Other settings' option from the 'Global settings' section of the main menu then select 'Company information'.
Here you can set the values for:
Country, this determines the date format and currency symbol that Groundleader will use.
First name & surname, the full name is used for signing off at the bottom of correspondence, the first name is used on remittance advices. If you don't want your surname to appear on correspondence leave it blank.
Company name and address, this is used wherever your address needs to be shown to the customer. Your full name is not uses as part of the address, if you do not have a company name you may want to enter your full name here again.
Invoice/Quote CC Email, enter the email address you want your copy of emailed quotes or invoices to be sent to.
T&C web address, if you have your company terms and conditions hosted online enter the web address for them here. This may be shown on customer quotes produced by Groundleader.
Legal information 1 & 2, This legal information is what will be shown at the bottom of any emails Groundleader sends out to your customers. It is where you should enter any information that you are legally obliged to include on correspondence. An example for a limited company in the UK would be: "Your company name" is a trading name of Your parent company name.
Managing director XXXXX Company reg no XXXXX Vat reg no XXXXX.
The contact information included on this page is only used on correspondence to your customers. The contact information relevant to your Groundleader subscription with us is separate and can be managed by visiting the 'My subscription' page.
Company logos
You can add a small company logo that will be shown in the top corner of the screen for all your staff that use Groundleader. You can also add a letterhead image which will be used on the top of invoices, quotes and statements produced by Groundleader. There is also an option to upload a scan of your signature to show at the bottom of correspondence to your customers.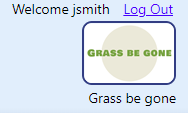 Your logo at the top of every page
These three images can all be set by selecting the 'Other settings' option from the 'Global settings' section of the main menu then select 'Company logos'
Letterhead image
It is advised that you upload a letterhead image for your company. The image for the letterhead should ideally be 2400 pixels wide and 480 pixels high, this will fit the full width of the page and give best quality printing at 300dpi. If your image is more square than this it will be center aligned at the top of the page. File size can be no more than 7Mb and should be in png, jpeg or gif format.
To upload images from your computer click the 'Choose file' button in the appropriate section, find the file on your computer then click the 'upload' button.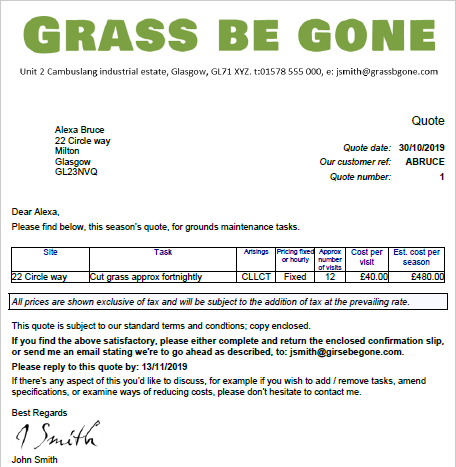 A PDF quote with your letterhead at the top and signature at the bottom.