Last updated 12/11/2019.
Back to resources menu.
What are seasons?
Seasons in Groundleader represent the times of year in which different tasks are usually carried out. Traditionally Spring, Summer, Autumn and Winter. They are used in Groundleader as a way to filter your tasks, for example on the daily job assigner you can load up all your winter tasks, or you can bring up a profit analysis for all your summer tasks. Seasons also allow Groundleader to group together visits done in a single year, for example you can view all visits for a single task that were carried out in the 2020 season.
Setting up your seasons
Groundleader allows you to set up your season start and finish dates the first time you use it, we give you some recommended values to get you started. Seasons can be added or edited at anytime by selecting the "Season/End season" option under "Global settings" on the main menu.
Start and finish dates
Each season has a name, a start date and a finish date. The start and finish dates will be used as the default start and finish dates for any Task types that are linked to this season. You should choose dates that suit the nature of the tasks that you carry out. For example, for the Summer season you should set the start and finish dates to whenever you would normally start and finish the majority of your grass cutting tasks. These are just default values though, designed to save you time when setting up your tasks, they are not set in stone and can be changed for each task or task type.
You are not limited to the default seasons we have set up for you, you can set up your own season if you have a lot of tasks that are carried out over a period that does not match with the normal seasons.
Quote deadline
When Groundleader produces quotes for tasks it includes a deadline date that the quote must be accepted by. The value you enter here will be used to calculate the quote deadline date for tasks in the selected season. Enter the number of days before the season starts that you want the deadline date to be. Raising quotes is explained in more detail on the quotes page
All year season
Some tasks are carried out all year long, these tasks should be linked to the "All year" season. When editing or setting up your own all year season, don't make it start and finish on the same date, it should start the day after it finishes. For example it could start on Jan 1st and end on Dec 31st.
Seasons and visits
Whenever a visit is logged for a task Groundleader will check the tasks linked season to see what the current season year is and label that visit with the appropriate year. For example a summer task carried out in 2019 will be a 2019 season visit, a winter task carried out in January 2020 will also be a 2019 visit. This is because the season year is set to whenever the season began.
On the full log visit form there is a field marked 'season start year', when logging a visit this will default to the current season start year. It is possible to log visits for previous seasons by changing this to the appropriate year.
End season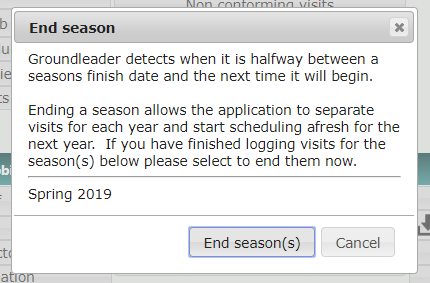 Groundleader needs to know when a season has ended and the next one begun so it can start allocating visits to the next season year. We know all too well that sometimes work can carry on past the official end of the season so it isn't ended bang on the finish date. Groundleader waits until it is halfway between the season ending and the next time it is due to begin before prompting you to end the previous season. For example you will be prompted to end the 2020 Winter season will some time around the middle of summer. This should give you plenty of time to finish logging your winter visits. You don't have to end the current season when prompted, just click cancel to dismiss the message. You will be prompted each time you log in until the season is ended. Any "All year" seasons that span the whole year will have to be ended before visits for the next years season are logged.
It is possible to manually end a season at any time by clicking the end season button next to it on the "Season/End season" page under "Global settings" on the main menu. Once a season has ended you can't go back to the previous one.